Mosio Announces True Two-Way Text Messaging Platform
Software enables global, interactive TextChat messaging between organizations and mobile users for efficient, low-cost communications.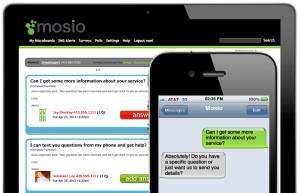 SAN FRANCISCO, CA – July 24, 2013 – Mosio, an award-winning mobile software company, announces its True Two-Way Text Messaging solution, TextChat, for interactive conversations between organizations and their mobile users, including customers and staff alike. The easy-to-use, web-based platform enables low-cost communications with users globally in 21 countries.
There are many misconceptions about text messaging solutions, not all of which are equal. Some services may technically be considered two-way but do not actually allow for dynamic TextChat exchanges. And while some providers claim to offer global coverage, there may be additional fees incurred by the end user for international text messaging.
"Mosio's two-way text messaging technology enables our clients to engage in threaded, interactive 'TextChat' conversations with their mobile users," said Noel Chandler, CEO and Co-Founder of Mosio. "If those users are in one of the countries Mosio covers, they are texting to and receiving from a number in their own country, thereby avoiding international fees."
The Mosio dashboard makes it easy to connect and communicate with mobile users. Some of the software's features include customizable auto-responders, canned response templates and an 800+ term "textspeak" translator for text messaging acronyms. Organizations' staff can respond to text messages or proactively send messages to customers and employees via one-to-one or subscriber alerts features.
Mosio's software is ideal for customer support, health services, clinical research and workforce communications. Other services include text alerts, reminders, updates and surveys. Organizations can try out the TextChat technology with a free, 14-day trial.
Learn more about Mosio's true two-way text messaging and global reach. For information on Mosio's solutions and its multi-channel, web-based dashboard, visit www.mosio.com.
About Mosio
Currently available in 21 countries including the U.S., Canada, UK, Spain, Australia and South Africa, Mosio's mobile software provides support and feedback solutions to organizations in healthcare, customer service, clinical research, health services, helplines, hospitality, contact centers and events.
Headquartered in San Francisco, Mosio's technologies have served Home Depot, Southwest Airlines, McKesson, Harvard, Enterprise Holdings, American Hospital Association, Disney, State Farm Insurance, Marriott, Kaiser Permanente and the United States Department of Health and Human Services. For information about Mosio, visit www.mosio.com.