Mosio's True Two-Way Text Messaging™ Coverage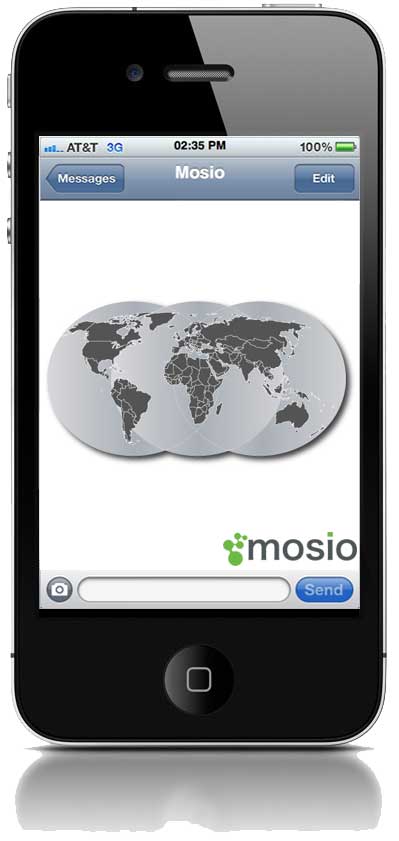 What is True Two-Way Text Messaging™?
Many mobile messaging companies claim that they have global text messaging capabilities. While it may be technically accurate, in many cases it requires the end user to text to a UK long code, incurring international text messaging fees, not the best user experience, especially after they get their bill.
Some text messaging companies claim to have two-way text messaging, but their solutions fall short after Keyword Post >> Auto-Reply. While Post and Reply is technically two way text messaging, it doesn't include conversational, engaging text messaging where staff can have an active "textchat" interaction with their customers, employees or mobile audience.
Mosio's True Two-Way Text Messaging™ enables organizations to deploy interactive textchat text messaging where the end user is sending and receiving text messages with a number in their country, minimizing the cost to them and our client.
Your staff login to your web-based Mosio dashboard, taking advantage of Mosio's time saving auto-responders, canned response/answer templates, collaboration-friendly features and our 800+ term "textspeak" translator to quickly translate unknown text messaging acronyms.
Whether you are planning on using two way text messaging for customer support, health services, clinical research or workforce communications, Mosio's Two-Way Text Messaging platform enables you to communicate efficiently with your mobile users from a system built for active interaction.
Mosio currently offers True Two-Way Text Messaging in 27 countries, listed below.
Pricing can vary slightly from country to country, but is based and closely held to our published plans, which can be found at http://www.mosio.com
If you there is a country you would like access to not currently on the list, contact us. We have over a dozen messaging partners to give us global coverage, we'll be happy to look into it for you.
Countries
Australia
Austria
Canada
China
Czech Republic
Estonia
Finland
Germany
Hong Kong
Hungary
Ireland
Israel
Lithuania
Mexico
Netherlands
Norway
Pakistan
Poland
Puerto Rico
Romania
Slovakia
South Africa
Spain
Sweden
Switzerland
United Kingdom
United States