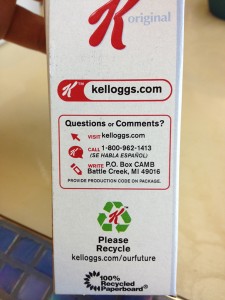 I am a big fan of Special K, it is definitely my favorite cereal in the world. I also happen to be a huge fan of white space in design, so while admiring a small box of Special K while enjoying a bowl of it, I noticed all of the various ways they encourage customers to contact them. Honestly, I can't think of any reason a sane person would be upset with Special K and I applaud Kellogg's for providing so many ways to contact them, only they're missing the single most utilized mobile channel: Text messaging. It is user-friendly, immediate, works on 99% of all mobile phones and is the preferred method of communication for all mobile consumers in the U.S.
Kellogg's Customer Service:
Invite your customers to text you with their questions or comments. You'll not only get more of them, my bet is that you'll get more positive comments, not to mention you'll have the ability to send those mobile users additional information, promotions, mobile web links, etc at the point of consumption without asking them to:
A) Remember to visit your website later.
B) Be placed on hold.
C) Spend time and postage to send you a letter.
If you're looking for help in getting set up, let us know. Using our technology we can equip your customer service reps to receive and respond to text messages from your customers efficiently. And, as of this posting, the short code 237325 (CEREAL) is available. We can get you set up and running as quickly as possible.
Noel Chandler
CEO, Mosio, Inc.
Interactive. Mobile. Engagement.
www.mosio.com