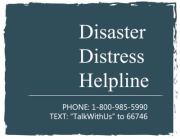 It's Mental Health Awareness month, get involved!
The Disaster Distress Helpline (a program of SAMHSA) is hosting a live Twitter Chat on Tuesday, May 8th from 8-9 P.M. EST for parents/caregivers on helping children and teenagers cope after disasters. Use the hashtag #youthcopeChat to ask questions and join the conversation! For more information, please visit https://www.facebook.com/distresshelpline or follow @distressline on Twitter.  Chat presenters include; Christian Burgess (@cburgessDDH), LMSW, Director, Disaster Distress Helpline and Dr. April Naturale (@anaturale), Senior Advisor, SAMHSA Disaster Technical Assistance Center.
Tweet This!
Join the #youthcopeChat on 5/8 at 8pm EST to learn how to help youth cope after #disasters. For more updates check out @distressline!