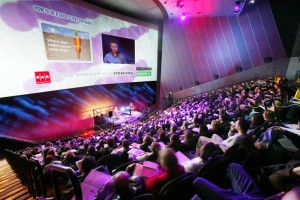 Text messaging remains one of the most used mobile technologies around. In fact, more people read text messages than emails which makes it a more effective way of communicating information. Text messaging provides an excellent way to send out updates and other important information quickly, and for this reason, many event organizers are turning to Text to Screen SMS software to encourage attendee participation and invite questions.
The following are four ways to make text messaging work for you at your next conference or event.
1. Placing screens all across the event can encourage ongoing interaction.
Using the Mosio text to screen software, anyone at the event can send messages to a designated number and have it projected onto the screens all over the event.
2. Mobile photo posting allows attendees to share photos of their social activities at the event.
The text to screen software can allow attendees to share their experience with everyone. Their photos will be projected onto screens, informing others while also encouraging participation by other attendees in that social activity.
3. Use it for Q&A sessions instead of microphones.
Rather than going around the room and having each person ask questions into a microphone, text messaging is an easier solution. More attendees may be willing to ask questions if they can remain anonymous.
4. Gather information and data from attendee and audience member SMS polls.
Audience Response Systems (ARS) can be expensive to rent. With 99% of mobile phones being text messaging-enabled, more people can participate in polling and questions. More data can be gathered from more attendees.
Visit us to find out more about Mosio's text to screen SMS software services.