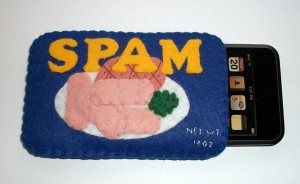 I recently wrote a post for our Text a Librarian blog called 10 Digit Texting Number Spam, giving a few screen shots about text message spam I've received on my phone over the past couple of months. I get about 1-2 spam messages per week. I use AT&T's SPAM short code to report it and never get a message from the same number again, usually a similar message from another 10 digit number.
As I started reading Erica Taub's New York Times article "Eluding a Barrage of Spam Text Messages" over the weekend, I thought out loud "I bet it's 10 digit numbers she's referring to" and kept reading. It was. Then I read Nicole Perlroth's New York Times article, Spam Invades a Last Refuge, the Cellphone. Both authors tales of  spam problems cover a lot of ground, including mentioning how easy it is to use a mobile user's number @ a special email address from their carrier, to send a text message. The problem is, most of the spam I read about, hear about and receive, isn't from email addresses or texting short codes. It is from 10 digit "local" numbers. The examples in Perlroth's article are from 10 digit numbers and Taub's ended with 'which is why when I recently tried to call back the phone number that sent the payday loan offer, a recording stated that "the number you dialed is not a working number.'" She got spammed from a 10 digit number and naturally, tried to call them to see what they had to say, to no avail.
Why wouldn't 10 digit numbers be a spammer's tool of choice?
10 digit numbers that have texting capabilities are easy to obtain, cheap (they don't have to pay the mobile carriers for the traffic), they can be set up quickly for "slash and burn" purposes and they're not subject to any of the STOP/QUIT/HELP commands required by mobile carriers for 5 or 6 digit short codes, regardless of the CTIA's stance that they not be used for A2P, commercial purposes. They're "developer-friendly", whether that developer happens to be a cash-strapped start up or someone wanting to avoid being caught when sending unsolicited offers to lists of mobile numbers.
Text messaging is the most useful channel on the mobile phone, the most personal piece of technology to consumers these days. Seeing spammers take to it with force is not surprising. It's disheartening and frustrating, but until the mobile associations and carriers get a handle on software being able to utilize 10 digit numbers to send and receive text messages, unfortunately things are going to get a lot worse before they get better.