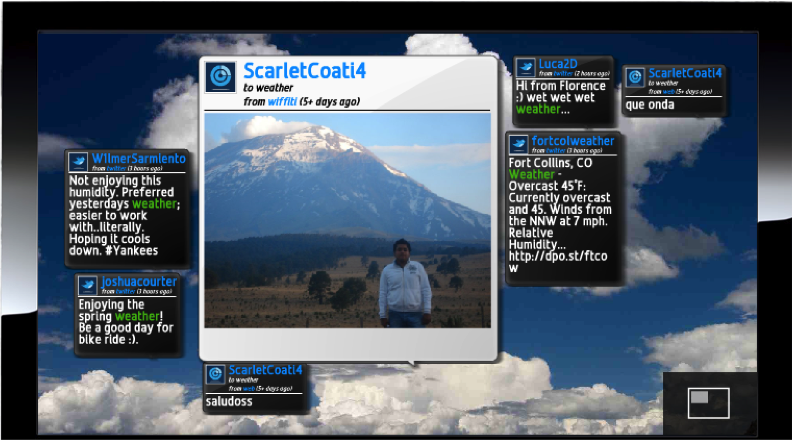 Text 2 screen polls and audience response are two of the easiest ways to get the people in the crowd involved in what's going on with your event. Using text messaging, available on 99% of all mobile phones, makes that kind of participation available to everyone in the audience.
A business colleague of mine came back from a conference the other day, raving about how innovative it was that he and other attendees could "tweet" messages with a conference #hashtag to get their tweet to show up on a screen. I couldn't argue with his excitement- it's fun to see something you write end up in front of people, and it's rewarding to feel like your opinion matters at an event where there are hundreds of people from your industry. I've been at conferences where you can do just that, and it is a rush to see my message appear before the crowd. I've even had moderators offer to ask questions that people tweeted the same hashtag.
But if the goal is truly to get more people involved, I wonder why event organizers don't use Text 2 Screen, empowering anyone with a text plan to participate (over 95% of mobile phone owners), rather than the much smaller sliver with smartphones (just 28% of mobile phone owners).
Text 2 Screen is a way to get the attendees involved at your next event or conference. By inviting virtually everyone at the event or conference to be part of the voice of the event, you create more ways to engage the entire audience.
Here are 5 Reasons Why Text 2 Screen Text Messaging Polls and Audience Response Works…
1. Text 2 Screen Polls:
These polls encourage audience participation during speaker sessions or workshops. We've all looked up from our own laptops during a session to see half the room… on their laptop. Taking polls to keep audience members thinking and responding is a great way to hold attention.
2. Text 2 Screen Questions:
Empowering attendees to text questions to displays during speaker sessions or around your event gives a voice to people who may not bring them up otherwise- and every question starts a conversation that your attendees will go home thinking and talking about.
3. Text 2 Screen Photos:
What do people love more than taking pictures? Showing their pictures to other people. Designating a number and a screen where conference attendees can display their photos encourages participation, and it also means more people will be taking photos. That means they'll share more, not just at the conference, but when they leave and head home. That means more exposure for your event.
4. Text 2 Screen Audience Response:
Whether you're asking the question to gauge audience sentiment, or counting feedback for attendees choice awards voting, soliciting audience response adds an important interactive dimension.
5. Text 2 Screen Moderation:
As the event organizer, you can set up your text 2 screen system so that answers to polls or streams of audience feedback can be moderated before they appear on the public feed, allowing you recourse in case anything doesn't go smoothly.
Image credit: marketing.org
——
GET A QUOTE!