Engage Attendees via Mobile Messaging
4.1 Billion text messages are sent in the U.S. every day.
72% of U.S. adults regularly send and receive text messages.
94% of all mobile phone owners have text messaging included in their monthly plans.
90% of text messages are read by recipients.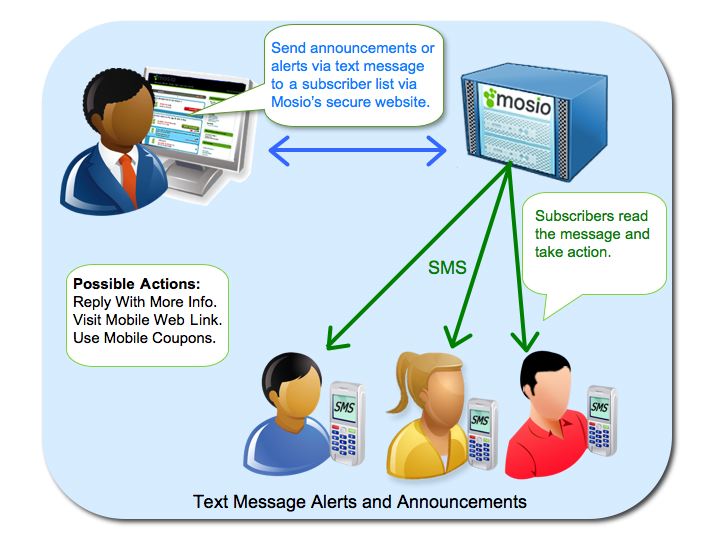 Text Message Alerts and Announcements keep attendees up-to-date with the latest information before, during and after your event.
Mosio's mobile solutions for events and conferences enable event organizers to build a text messaging subscriber list through a number of ways, including web widgets, phone number batch uploading or keyword self-registration so you can begin sending them important messages as soon as possible.
As a perfect add-on to our other mobile services, SMS alerts and announcements give your event a longer tail by letting you continue communicating with attendees after your event has ended, providing you with additional opportunities to
"Mosio's texting service has become a standard for our annual conference."
– Ryan Schniederjan, Information & Technology Committee Chair, AAPA
Contact Mosio – We'll put together a quick and competitive mobile technology services quote for your next conference, event, trade show or meeting.
Our Experience:
We've worked with organizers and managers of all size events, from 50 attendees to 25,000. Our enterprise grade mobile messaging platform is able to handle large message volume, ensuring your messages get to your audience on-time, when it counts.
What about Mobile Apps?
We love them and think they're great, but they're not ubiquitous and in fact, 30-40% of conference attendees don't have smart phones. Nearly 100% of your attendees are able to send/receive text messages on their mobile phones making it the perfect medium for event communications.