Mosio Wins Leading Patient Engagement Software Customer
Mobile messaging platform enhances CareWire's patient attendance, compliance and satisfaction solution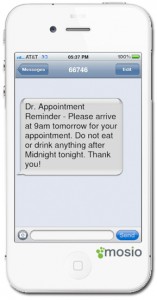 FOR IMMEDIATE RELEASE
SAN FRANCISCO–Studies show that missed appointments by patients negatively affect their health, strain the provider-patient relationship, disrupt the care delivery process and add avoidable expenses to administrative and medical resources. The traditional methods of communicating with patients via snail mail and phone calls are expensive and time-consuming and are proving more impractical to healthcare providers looking for proven, cost-effective communication methods.
Enter the mobile phone.
Today Mosio announced the integration of its mobile messaging platform with CareWire, a company that provides an automated patient text messaging service that allows healthcare organizations to increase billable appointment yield, visualize patient satisfaction in real-time and inform improvements in service.
Now, CareWire will use Mosio's powerful messaging infrastructure to ensure scalable and reliable messaging volume.
"Research from Med Practice Informatics has shown estimated savings by using text messaging for reminders, calls and follow ups can increase practice revenue by $100,000 a year," said Noel Chandler, Mosio's CEO. "CareWire's incredible technology, combined with Mosio's interactive messaging platform, provides doctors, clinics and hospitals with a powerful mHealth solution that reaches patients via the mobile channel they use the most – their mobile phone," Chandler added.
"Mosio's platform will enhance our capability to grow our business quickly," said CareWire CEO Scott Danielson. "We are pleased to partner with another leading-edge firm with a solid track record in delivering interactive mobile solutions in healthcare."
Mosio's two-way mobile messaging services are accessible in 16 countries. For more information on how Mosio can assist your business or organization via interactive text messaging or the mobile web, visit www.mosio.com

About Mosio
Mosio is an award-winning mobile software company providing text messaging and mobile web solutions for businesses and organizations. Mosio's technology is used in customer service, healthcare, research, education, libraries, events, hospitality and workforce communications, enabling our clients to communicate with their target audience efficiently via mobile messaging.
About CareWire
CareWire is a patient engagement solution that utilizes automated patient text messaging to guide patients to better, safer and more satisfactory healthcare outcomes while enhancing provider revenue. The system and brings to providers a turn-key solution that is ready and operational within days of purchase. For more visit www.carewireinc.com.
Mosio mobile messaging software.

—-