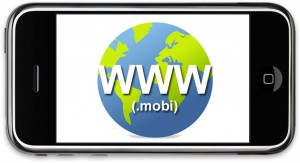 Editor's note: this is a guest post from Neil Jones, head of marketing at eMobileScan.

Mobile websites are the latest craze, since they can be accessed through smart phones which have become a vital part of our lives. Smart phones and tablet computers are the hottest selling items today, and website owners need to have their websites noticed through these devices. This is possible by having a scaled down version of a website, called a mobile site-the scaling down helping to make the details legible in as appealing a layout as the regular website on a laptop or desktop screen. With devices like the Blackberry, iPhone and various other Android mobiles, the laptop is not even necessary since these devices conduct all the activities with the same precision despite their small form factor.
Mobile websites, though essentially a miniature version of the website, do incur an expense, and this will mean cutting other expenses out of the shoes string website budget. The question is to see whether the mobile site expense justifies the cut in online marketing expenses or reducing the SEO consultancy costs. This is easy to find out, after knowing what benefits mobile websites bring with them.
Benefits
A rapidly growing market available-The number of mobile users is increasing fast, and an increasing number of internet capable smart phones and mobile devices are being launched. With all these available at affordable prices, the number of mobile users is bound to increase, and when the mobile device can conduct all the functions of a desktop and laptop computer, a mobile site makes sense. Doing so now, will give a head start over others and the site can be tried and tested well before competition heats up.
Will increase brand visibility- When huge amounts are spent on online marketing tactics like a pay-per-click campaign or SEO consultancy, a bit of additional effort can help to plug the gaps left by them, since some users slip through the paid efforts when they use other search engines and in many other ways. The effort in the form of a mobile website will help mobile users find the brand more easily and make all the information about it more accessible.
Bringing the brand within the grasp of the customer- Google's Adwords campaign claims that pay per click helps to get in touch with prospective customers as soon as they search for the website's products and services. This had seemed difficult a year or two ago when it was important to be in front of a desktop or laptop computer. But with mobile connectivity through smart phones and other devices, this is actually possible. Wi-Fi is available on domestic flights, shopping malls, and many public places, which makes checking of mobile sites even easier. In fact mobile sites would score over traditional websites which would not be very clear, and the potential customers would actually hit upon your mobile website just as they look for it.
Mobile sites can lead – Having a mobile website before others in the field can be a big plus. Besides being accessible through mobile devices, it can prove to be a way to score over others since it can be a winning point in online marketing strategies. It shows your website to be farsighted and geared for the future.
The mobile internet is here to stay and is only set to see exponential growth over the coming years; if you do not have plans to get in front of this ever increasing audience then you are making a decision that could be to the detriment of the future success of your sites and your business.
This is a Guest post by Neil Jones, who Specializes in launching ecommerce sites, he is currently plying his trade as head of marketing for eMobileScan. With 18 websites based all around Europe they are on course to be one of Europe's largest online retailers of Industrial handheld computers and label printers like the Motorola MC3190 or Symbol MC9090. Neil has been an online marketer for the past 6 years and in that time he has owned and run a range of sites all built around the ecommerce platform.