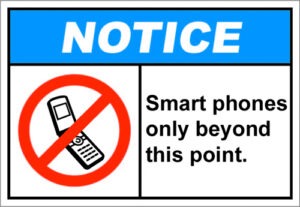 1. Only 28% of mobile users in the U.S. have smart phones.
What if 72% of your attendees couldn't access your website or marketing materials. Would creating them be an acceptable use of time and money at your organization?
2. With literally hundreds of thousands of apps in the app stores, mobile app discovery is growing more difficult daily.
Even with developer confidence declining because of the fragmentation of mobile operating systems, there are about 2,000 apps submitted to the Android and iPhone app stores every day. This problem isn't going to go away any time soon because the percentage of smart phone users will creep up over the next 5 years.  As the number of smart phone users increases so will the number of apps, creating even more noise.
3. Nearly 3/4 of downloaded mobile apps are used less than 10 times and 1/4 of mobile apps are used only once.
Quick Experiment: If you are a smart phone user, take a quick look at your phone. How many apps do you see on there that you were excited to download and then haven't used again? Maybe it's no surprise to know free apps are used less than paid ones, but worth noting.
4. To justify the cost, mobile app features for conferences tend to be way more than anyone needs or uses.
Attendees using smart phones are already using many different apps to manage their travel, find local places to eat and figure out what's causing buzz at the show via Twitter and Foursquare. Do attendees really need GPS-enabled map directions to exhibitor booths? Is there really a need to pay for development and then promote another service for them to do this on?
5. Developing mobile apps is more expensive than you think.
We recently wrote a blog post about the expense of creating an iPhone app, so I won't go into it here, but people tend to think developing mobile apps for 3-5 different mobile operating systems is fairly inexpensive and doesn't take a lot of time, even on providers claiming to use pre-packaged platforms. It's really not.
6. Notifications for alerts, announcements and changes on mobile apps are not an automatic function.
How much can you ask of your attendees? After you ask them to download the app, then you have to ask them to push information or have to ask them to follow their location. When you update or change information on the app, attendees have to perform what's basically a re-download to see the new info. What else might you have to ask of them?
So what is one supposed to do?
Use text messaging and the mobile web. Or just use text messaging. It's available on 99% of all mobile phones and 95% of all mobile phone subscribers in the U.S. have it as part of their monthly plans. If you love mobile apps or someone you work with insists in them, we completely understand. We love them too and everyone here is a smart phone user. But we're realistic about the fact that most mobile users are not. If you're interested in hearing success stories our clients have had using cost-effective and engaging text messaging applications or mobile web solutions, contact us, or check out our mobile solutions for conferences, events and meetings, we can help.
Thanks for reading and happy texting,
Noel Chandler
Mosio, Inc.
Interactive. Mobile. Engagement.