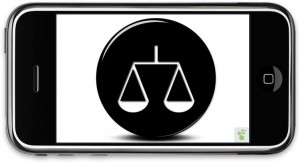 As a law student, your time is valuable. From coursework to time spent in the library, organizing your time is paramount to your success as a student and soon-to-be lawyer. No matter what facet of the law you're most interested in, from international arbitration to criminal law, these mobile apps (almost all of which are free) can help you organize your busy schedule.
Free to download, the ABA Journal application features articles and breaking news from the leading publication of the American Bar Association. Users can stay apprised of legal news that is updated through the day, read articles, and delve into one of the more than 2,500 legal blogs in the Journal's directory.
Similar to the ABA Journal, this app (also free) allows you to view articles from the monthly magazine, as well as annual surveys that rank law firms by amount of revenue and personnel. A definitive legal publication, The American Lawyer app is a leading news sources for those in the legal field.
The Constitution of the United States
Available with audio, this app features the U.S. Constitution in its entirety. Explore the federal government's relationship with the 50 states and their citizens. The app features a searchable index, a table of contents, and information about the Constitution's ratification. What better way to stay apprised of legal precedent on the go, especially at the bargain price of 99 cents? (Android) (iPhone, iPad, iPod Touch)
Another free app, Evernote allows users to quickly take notes, create to-do lists, share files, and record audio notes, among several other features. Whether you've already packed up your laptop after class or are struck with an idea when no paper is available, Evernote can help you keep track of ideas, questions to ask your professor, or the name of that reference book you need to find at the library. Evernote is also available as a desktop application, allowing you to sync information between your desktop and mobile device.
Free for use, Dropbox is another app that is available in both a desktop and mobile version. A file-sharing system that can help keep you organized between home and the lecture hall, Dropbox allows users to access and share documents, presentations, spreadsheets, and export files. Work with classmates on the go, knowing you can access copies of class notes while the originals stay safely at home. Signing up for a Dropbox account is necessary, but it only takes a few minutes.
At $54.99, this is the costliest app on this list but also the most necessary. A go-to source of information, Black's Law Dictionary provides legal definitions for law students and lawyers. The terms are also accessible to those not even studying law. Important to have on your bookshelf at home, the mobile app will help you accurately cite sources without having to lug the book around with you.
While this list isn't comprehensive, it's a start towards staying more informed as a law student. Save time and room in your messenger bag by downloading some or all of these apps and help secure your place at the head of the class.
—
Have any more that you're using? Let us know in the comments!
About the Author:
Ashley Spade is a law student in Chicago. When not pulling all-nighters at the library, she spends her time scouring thrift stores for vintage fashion treasures, reading case briefs while on the treadmill at the gym, and volunteering for local animal shelters. Follow the adventures of Ashley and her furry sidekick, Sir Winston Pugsalot the First, on twitter:Â @ashspade or check out her fashion blog: www.beltsandbangles.com