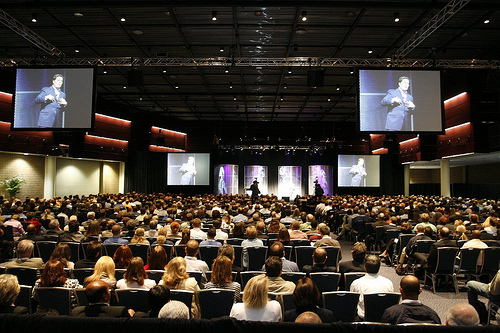 Receiving text questions as an information source for your event attendees or audience members is a readily available resource that they can access from wherever they are, whenever they need it, and stay engaged, whatever the size of the audience.
When I was a kid, I was one of those inquisitive ones. Whenever there was something I didn't know off the top of my head, the first thing I did was try to find the answer. At that time, I was looking it up in a dictionary or an encyclopedia! These days, I'm a huge fan of the Internet because I can find the answers I need when I need them- my answers on my time. And, if there's a conversation happening at a blog or twitter, I want in on it.
When I find myself at a live event or a conference, I want the same kind of ability to find answers when I need them from where I am. While event staff are one option, they are not always around. While some people have smartphones and can check an event app or mobile site, you still have to hunt for information in unfamiliar territory.
What I want, and countless attendees and audience members appreciate, is reliable, instant access to often get flustered trying to get the answers I need about the event when I need them. Or, when those answers are from a person speaking in front of a large group, a way to instantly ask their question. Now there are many solutions that enable attendees to text questions and receive answers, either up on a text-to-screen projection or via web-based texting software.
Top 3 Reasons to Have Audience Text Questions and Information for Your Next Event
1. Receive & Respond: At any event, attendees need their questions answered fast. While attendees can't always find event staff or a computer, they will always have their phone. Setting up a dedicated "Text 2″ code and staffing it with knowledgeable people to respond to text message inquiries from attendees/exhibitors gives every attendee somewhere to turn for fast answers to any question- on their timeline.
3. Speaker Q&A: Want to get your audience asking questions during a panel discussion or in a large exhibit hall? Enabling them to text questions in rather than raise hands and wait for a microphone allows you to screen questions first, increase engagement, and keep it accessible for all attendees.
3. Text 2 Revenue: While giving your audience access to instant information and a way to communicate with speakers is good for them, there's another upside for you as the host. Hosting a live event takes money, and sponsors are always looking for the best way to get their names out to event attendees. When you integrate text messaging into your event, sponsorship space at the end of messages = ROI.
We would love to talk with you about how to customize Text 2 audience question and information technology for your next event.
Image credit: farm4
——
Mosio for Events
Audience Poll, Q&A and Surveys Software