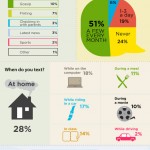 A new study from Pew Internet and American Life Project reveals some incredible statistics about the increasing usage text messaging in US mobile subscribers. A few key points:
55% of those who exchange more than 50 messages a day say they would rather get a text than a voice call.
Cell owners between the ages of 18 and 24 exchange an average of 109.5 messages on a normal day.
(Read: 55% of those between 18-24 years old would rather get a text message than a phone call).
Text messaging users send or receive an average of 41.5 messages on a typical day, with the median user sending or receiving 10 texts daily.
For businesses looking into text messaging services for their customers or employees, this research offers even more data that SMS is not a channel that can be ignored. Implement text messaging into your business services and you'll be connected with more people the way they prefer on their mobile devices.