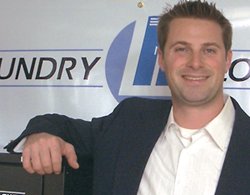 Arik Levy, Dry Cleaning and Laundry Delivery Services
Tell us a little bit about yourself and how you came up with the idea for Laundry Locker.
Having a professional job and working many hours, the inability to get my dry cleaning and wash & fold done used to drive me crazy.  With a background in operations and technology I knew there had to be a better way.  In 2005 I came up with an ultra-convenient locker based service model that would allow people to drop off and pickup their dry cleaning on their schedule, at their convenience, 24 hours a day, 7 days a week.
This service is called Laundry Locker® and we are changing the way the world does laundry!  We have quickly become the largest cleaner in San Francisco with service in over 150 apartment buildings, numerous parking lots and office buildings, as well as 6 always open, self-service retail stores.
* You implemented technology in a pretty cool way at Laundry Locker. Tell us about it and how it helps customers.
Technology is fundamental to Laundry Locker®'s success.  As a self-service business, it is imperative that we build trust with our customers.  Our custom built, industry leading technology, gives us the ability to track every garment from the second an order is picked up to the time it is delivered.  This ensures consistent, reliable service and we open up much of our data to our customers to give them the visibility into what we see.  We provide full transparency including pictures of every single item and the ability for customers to mark up the pictures to let us know about issues with their garments.  This is an industry where customers are craving technology; they just don't know it because it doesn't exist.  Not only does the technology that we use improve the customer experience but also improves our bottom line.
* How do you see text messaging benefiting your industry?
Text messaging gives our customers the flexibility to transact with us in the most convenient way possible.  Our customers can place orders via SMS, receive alerts when their order is ready and we have more functions coming soon.  Customer service is key to our industry and the stronger relationship you can form with customers, the more successful you will be.  The mobile phone has put a computer in everyone's pocket and we plan on leveraging that to its fullest. Technologies like mobile payments and NFC embedded in phones is super exciting.  We see some huge opportunities here.
* What got you started in texting (personally)?
I think I found out about text messaging in a bar. Expecting to find a missed call on my cell phone telling me where my buddies were, I instead found a text message; "We're at the back bar."  Brilliant!   Text messaging has made voicemail a thing of the past.  Got a message for me, just text it over.

* How have mobile phones changed your industry?
One of the most exciting things about mobile phones is that now the customer is always connected.  Their response times are quicker and they expect the same from their service providers.  Companies that can react in real-time and provide customers with the information they want, when they want it, will have a huge competitive advantage.
* What advice would you give any business owner implementing text messaging or mobile technologies?
The more channels of communication you open with your customers, the more difficult it becomes to manage the customer experience. For us, before we implemented mobile technologies, it was imperative that all our mobile interactions were seamlessly integrated into our existing customer experience system.  Our inbound text messages come in just like an order over the web and outbound text messages have the same traceability as our emails.  Without this level of integration, you will have a disparate view of your customer and you will be unable to react when they communicate using a different channel.
* Any other thoughts about mobile?
Apps and the mobile web are changing the game in every industry, even dry cleaning.  I think the new Motorola phone with a docking station is super exciting.  The smartphone  is the new laptop.  I can't imagine the world without my smartphone, and 10 years from now we won't believe that a basic iPhone was a sufficient device.  I recently heard about a billboard in NYC that was just a simple QR code.  The first day it was up, the QR code was scanned over 50,000 times!  Mobile technology is advancing every day and successful companies will be the ones that embrace it best.
* What kind of mobile phone do you have? If you are able to download apps to it, which is your favorite?
I have an unlocked iPhone running on T-Mobile.  While I compromise on internet speed, not dropping calls anymore is worth the trade off.  My favorite app is CardMunch.  I just emptied my drawers of 1000+ business cards, scanned them in a matter of minutes and they were hand transcribed, digitized and loaded into my Google contacts, for free!
To learn more about Arik Levy or Laundry Locker, you can visit the Laundry Locker website or on linkedin.