Software platform allows for counseling services via interactive TextChat messaging between therapists and individuals, couples and families seeking care.
FOR IMMEDIATE RELEASE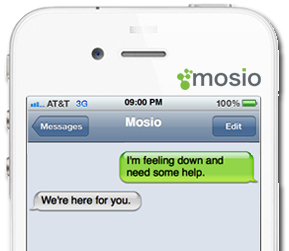 Aug. 21, 2013 – SAN FRANCISCO — Mosio, an award-winning mobile software company providing solutions in healthcare, clinical research, health services and other industries, announces its partnership with Ever Changing Minds. The company's two-way text messaging platform, TextChat, will enable therapists to engage in interactive conversations to offer counseling to individuals, couples and families via their mobile phones.
"We are excited about working with Ever Changing Minds to supply a solution that improves the efficiency and delivery of counseling services to their clients," said Noel Chandler, CEO and Co-Founder of Mosio. "Our text messaging software will enable them to further scale their business to provide affordable, accessible therapy throughout the U.S."
Utilizing the easy-to-use, web-based platform, Ever Changing Minds therapists can have dynamic, two-way conversations and address the needs of several clients simultaneously. TextChat with mobile users allows for ease of communications and availability of services, when and where they are needed, which can reduce barriers for those seeking help.
"We are delighted to work with Mosio to further build on our electronic delivery methods and increase the accessibility of our psychotherapy and life coaching services," said Ilene Strauss, Psychologist and Co-Founder of Ever Changing Minds. "The software enables us to effectively reach and assist more people nationwide."

The Mosio platform allows for low cost, efficient communications with mobile users. Some of the features include customizable auto-responders, canned response templates and an 800+ term "textspeak" translator for text messaging acronyms. Ever Changing Minds' staff can respond to text messages or proactively send messages to individuals via one-to-one or subscriber alerts features.
According to Michael Harris, Licensed Mental Health Counselor and Founder of Ever Changing Minds, "We are excited to use the Mosio solution to further our mission of innovating therapy and offering counseling to individuals, couples and families in their own environments, in a familiar manner, and at times convenient to them."
Mosio's software is ideal for healthcare, clinical research, customer support, health services and workforce communications. Learn more about Mosio's two-way text messaging or sign up for a free, 14-day trial at www.mosio.com.
About Mosio
Currently available in 21 countries including the U.S., Canada, UK, Spain, Australia and South Africa, Mosio's mobile software provides support and feedback solutions to organizations in healthcare, customer service, clinical research, health services, helplines, hospitality, contact centers and events. Mosio's technologies have served Home Depot, Southwest Airlines, McKesson, Harvard, Enterprise Holdings, American Hospital Association, Disney, State Farm Insurance, Marriott, Kaiser Permanente and the United States Department of Health and Human Services. For more information, visit http://www.mosio.com
About Ever Changing Minds
Ever Changing Minds was developed with the belief in the fundamental importance of transformation and change. With the purpose to innovate therapy worldwide, the company's mission is to provide affordable and accessible therapy for individuals, families and couples, in the comfort of their own environments and at their convenience. Ever Changing Minds delivers online counseling services via face to face/video chat, instant messaging, and email as well as through traditional landline and mobile phones. For more information, visit www.everchangingminds.com