Building a strong and positive team should be a main focus for any business. If you're looking for a fresh perspective on outdated team building exercises, think about incorporating text messaging to create a strong and unified team.
Here are 6 ways that text messaging can be used in company team building:
1. Staff Surveys/Questionnaires
Text message your employees about a change they'd like to see implemented, or ask something as simple as where to order lunch. They'll appreciate the opportunity to contribute. Getting the entire company involved in both the big and little everyday decisions can go a long way in boosting team morale.
2. Get to Know New Employees
Two-way texting software is beneficial for welcoming new members to your team. Texting seems much more personal than sending a generic "Welcome to Our Company" e-mail. Two-way text could even be utilized between team members in mentorship scenarios, giving brand new team members the opportunity to feel supported while acclimating to a new working environment.
3. Send Picture Messages
Who doesn't get excited to receive a picture message? Our two-way text messaging software supports image, making texts even more personal. Try planning a team building exercise around a scavenger hunt in which participants must send a picture of something specific. Encourage employees to take pictures of their workspace or an exciting project they're working on. Images have the ability to bring people together by enhancing personal connections.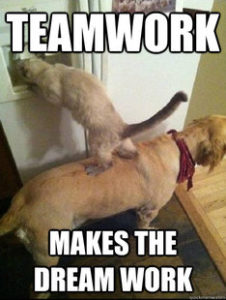 4. Voting/Polling
Bring together your team to come to an efficient group decision. Text employees a question in the form of a poll. Poll results can give the team a visual breakdown of where everyone stands on any given issue, giving them a greater understanding of the wants and needs of the entire group.
5. Exchange Ideas
Business leaders, especially at larger corporations, have a reputation of being inaccessible. Implementing texting software gives you a chance to make yourself instantly available to employees, more so than any other method of written communication. The more personal connections you are able to make with your team, the more they will feel as though they are members of a strong unit.
6. Giveaways
What better way to motivate your employees to initiate or respond to a text than by picking one lucky responder to win a prize? Make it something that employees look forward to. Try company trivia and pick a winner from one of the correct responders.
The ways to incorporate text messaging in team building exercises extend far beyond the few ideas we've provided. If you want to build a corporate culture that thrives, consider utilizing two-way text messaging for team building exercises.
For more information about Mosio for Events, visit: http://www.mosio.com/events