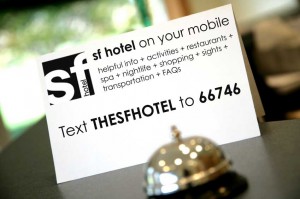 Consumers are using their mobile phones for everything. They are surfing the mobile web, they are interacting with friends and brands on mobile social networks, they are making purchases using their phones now more than ever and they are texting nearly twice as much as they are talking. They have come to expect the mobile channel to interact with their favorites brands and to get information immediately through their handsets. Too often, consumers are left disappointed if their mobile experience lacks organization, optimization and the ability to continue the conversation beyond a one-way communication. Hotel guests are no different.
Max Starkov wrote an incredibly thorough piece called "Mobile Marketing & Distribution Strategy in Hospitality: the Future is Already Here." If you haven't already, I highly recommend reading it. He touches upon the various elements of mobility for hotels and how they can offer higher levels of service to guests through personalization, location based services, marketing and general info through "mini sites" optimized for the mobile web.
At Mosio, mobile is our business. We know why it's important and have a good idea where it's going. We also realize that any hotel exploring the mobile channel for the first time, and for those who have already started harnessing its power, are recognizing the importance of providing an engaging, two-way mobile experience in order to interact with guests before, during and after their stay.
In a recent post, we provided some facts and figures about mobile text message usage in the U.S. and the opportunity for Hotels and Hospitality which, by the nature of statistics, speaks directly to the opportunity available to the entire hospitality industry. Taking it one step further in this post, we want to include some more information and specific competitive advantages the mobile channel offers your hotel and the added level of service it offers your guests.
1. Mobile technologies can save your staff time by enabling guests to help themselves find information.
Hotels are in the questions and answers business. While many would agree that nothing beats a face-to-face answer with a smile, most people prefer to just have a quick answer, easy access to information and to be able to get it no matter where they are. Mobile websites (we call them "microsites") containing hotel and localized information are a great opportunity to provide guests with helpful information on-the-go without standing in line or calling the front desk. In addition, providing important contact information via microsites will ensure that if your guests don't immediately find the information they need, they know who to call or text for it.
2. The mobile channel is an engaging, personal medium where you can market and promote hotel services during a guest's stay with you.
When guests are looking for information, they are the most open to suggestions, including products or services that are offered in your hotel or through one of your partners. Listing specials, promotions and last-minute discounts on your mobile microsites and via text messaging can increase revenue and fill real-time cancellations/openings for hotel services.
3. Mobility doesn't need to be difficult, expensive or time-consuming.
I once heard someone say "Our mobile strategy is: We need one." I couldn't blame him for saying it. With so many different components to creating an effective mobile presence, I couldn't blame him for not knowing where to start either. Consultants and Mobile Agencies can be great if you have time and money to spend, but consider that expenses start with the development, continue through deployment and often repeat with ongoing maintenance. Many mobile sites and marketing campaigns shut down short of fulfilling ROI due to lack of resources for management and upkeep. Conversely, mobile sites that are outdated show the end-user a lack of commitment to offering mobile services. That said, there is no reason why you should ever have to contact an outside agency to make minor changes to your mobile website or SMS communications.
Add apps to your mobile strategy, and the costs can soon make the whole idea for mobilizing a conversation closer. Simply put, developing mobile apps means programming for 7 mobile operating systems, which in turn means updating each of these apps when their operating systems get updated. A single app can cost thousands of dollars and comes with no guarantee that it will be approved, found amongst the thousands of other apps or downloaded by your customers.
If not agencies and apps, then what?! Consider Mobile Software as a Service (SaaS). Mobile cloud computing via the mobile web is growing quickly and gives you the biggest possible universe of potential consumers with the least cost, time and ongoing management resources. It seems a little odd that the simplest and most focused approach is the fastest and cheapest way to have a mobile presence, but it's the truth. If you don't trust that the mobile Internet is the future, consider Google's view of it.
4. Mobile communication should not be a one way street.
With the diverse avenues for mobile interaction available, not allowing your guests to communicate with you via their mobile devices during their stay (beyond a phone call) is the single most underused opportunity to connect with your customers, gather intelligence and provide higher service levels at the point of experience. The few hotels that are sending mobile communications to guests are doing so by providing room-ready updates or outbound promotions. These are great and informative, but I have yet to see a compelling mobile website or text messaging campaign to customers that offer a truly engaging experience. Polls, voting and "How was your stay?" surveys allow the customer to respond A, B, C and 1, 2, 3 but do not allow the guest to offer freeform feedback. There is much greater value in encouraging feedback throughout a guest's entire stay, with the ability for hotel staff to respond accordingly, than to receive a survey response "C) Service was satisfactory" after they have already left.
5. When you embrace and execute mobile correctly, your brand is with the guest wherever they are.
Providing information and services via the mobile web and text messaging means your brand is in their pockets and in their purses. Mobile is on-demand, 24/7 and is something that all guests are coming to expect no matter where they are. Harness the power of the mobile channel effectively and your brand, your customers and your bottom line will benefit.
Thanks for reading.
Mosio Mobile Information Systems
"Connecting you and your customers on their mobile devices."
Invest 30 minutes to mobilize your business. Join us for an online demo and go mobile!